BIOGRAPHIES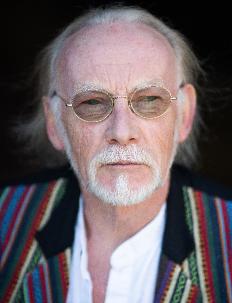 Brain Collander - Bassoon, Bass Crumhorn, Recorders, Harmonium, Gastaps & Vocals
Brain was born upon a Summer Seamstress at a quarter past the tree adjacent to the one he identified as his biological father and inhabited for most of his waking life.
Due to the fact that his waking life was particularly trunkated, he was in fact out of his tree an awful lot of the time.

Brain was adopted by a wealthy family of lawyers in the Mid-Eighteenth Century, who were so unkind and miserly that he was forced to sleep thirty-six hour spells in the South-Eastern State of Flux, bordering on the West Kent settling of Transcendentia, near Detling, to obviate the expense of meals and accommodation.

Every fourth day he would strive to achieve notoriety by fashioning bassoon-like "instruments" from a neighbouring coppice only to discover that their vicious bite always turned out to be greater than the sum of their bark on the High Potter Muse.
It is a common belief that, as we grow older, our best beards are behind us, but although he does manifest substantial dorsal growth, observing him today, approaching 132 years old, from the ventral position entirely refutes that argument.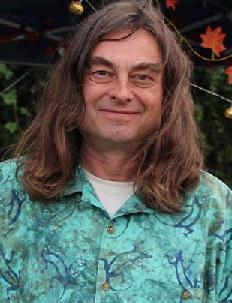 Graymeal Tailwind - Guitars, Mouchoir, Vocals & Entirely Inexplicable Wordsmith
Graymeal's career began age 17 in 2011, after many years of stagnated growth. He fell upon wayward and rocky times whilst posing for decades as his own personal hairdresser and chauffeuse. This phase passed largely unnoticed by his peers, when he was ordered to give up coiffeurism for Lent by his local vicar who, in misunderstood compensation lent Graeme his guitar.
This led to even harder times including a 10 year spell when he did nothing but grind his own plectra from the very rocks onto which he continually fell.
Lest I should hear you bemoan "What a So Sad Bastard", eventually it transpired that this had been a blessing in disguise, the resulting callouses on his fingers enabling him to finger with ease the tortuous guitar parts provided to him by a much younger man.

It turns out that Graeme holds scant regard for the entire Crumhorn family, regarding them as "Mere bent sticks for Toffs with holes in". This is quite typical of his reaction to something out of which he fails to extract a note. You should hear what he has to say about drummers…

Graeme's only remaining ambition is to learn to play the entire works of Dolly Parton in reverse. Having long given up hope of redemption in a world to come, his current belief is that playing Country & Western songs backwards is his only remaining chance of ever once again uniting with his dear deceased Mother, Grandma and indeed his beloved ex-Spaniel, Billy. He also hopes that his ever-nagging gout may see a turn for the better.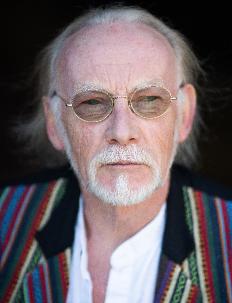 Dafty O'Burlesque - An Awful Lot of Instruments (Well, Drums Actually), Aspen Leaf (All A-Quiv'rin) & Vocals
Dave has spent most of his extraordinarily long life (for a drummer) under some sort of mortal threat or other.
He manifested, inexplicably locked and chained, from a sealed crate at a Magic Circle party in Banstead, late in the 15th Century, having been fastened there by his mother after a painfully induced birth involving his father's incessant beating upon her womb, beginning at 60BPM and increasing to a speed of 135BPM within the space of 5 minutes, thus inspiring Dave's unique approach to his percussion part for Estampie, only to be realised years later, contributing an unforgettable Fillip Nestor to the popularity of pseudo-progressive retro-medieval folk-rock, a genre which came to the fore in early 70s Reigate, but never really caught on elsewhere.
Dave's approach to the special requirements of Gryphon's percussion department is innovative. His specially commissioned kits, designed in conjunction with Cozy Armchair and The Duchess of Cornwall, always contain the maximum amount of drums that will fit into his Honda Jazz (Dave favours inflatable toms, so his vehicle will accommodate tubs a-plenty). The thinking behind this - capable though he is of only very limited bouts of "thought"- is that there is far less chance of wasting valuable and limited energy lashing out and missing a drum, when there are no unoccupied spaces anywhere near his stool.

Dave has only ever had one other job, quite by accident when he got caught in a time vortex, and found himself unwittingly and almost endlessly driving a Juggernaut, which Wikipedia describes as "a huge wagon bearing an image of a Hindu god." At the time Dave was a big fan of an otherwise completely unknown heavy metal band also called Juggernaut, but unfortunately misread the word 'driver' for 'drummer' when answering an advertisement in the Epsom & Ewell Chronicle, which catastrophic though simple mistake resulted in a 5-year round trip on the Redhill Ring Road for our ill-fated drummer, until he was rescued from the spell by the image of a Hindu god which appeared to him at the Marketfield Road roundabout, not far from the Toby Carvery...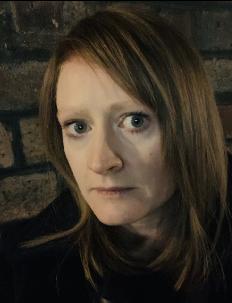 Clare Taylor - Violin, Vocals, Mandolin & Keyboards
Dai Jeffries claims in his recent review of Get Out Of My Father's Car on Folking.com, that Clare is no relation to Graeme. They share the same surname and a very similar aptitude for music of all kinds. They also shared the same house for nearly 20 years, so there's something rather odd going on if indeed Clare does not prove to be Graeme's daughter.
She is herself the mother of two beautiful daughters, Josephine and Jemima.
We are currently arranging a highly confidential DNA test to clear the air., the result of which will be sent directly to The Times for official publication. You may require a subscription.
She also enjoys playing the jouhikko in her lunch breaks, whilst enjoying a wide range of sushi.
At present, we know very little more about her, but she has become the subject of a major Gryphonic investigation and as soon as more inside information emerges, we will share it with you.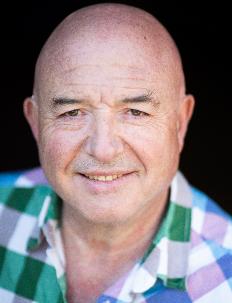 Andy Findon - Flute, Soprano Crumhorn, Soprano Sax, Apple Watch & Clarinet
A player of a such a Ludicrously Long List of Instruments, that it would be far easier and a lot quicker to list those which he does NOT play…
Andrew was discovered, only just slightly born, though heavily bruised, inside a disused soprano saxophone case in 1649 at Victoria Station's Lost Property office. The case had been handed in by an extremely honest Natural History Professor who was alarmed when he came across it abandoned upon a luggage rack on the 16:49 fast train from Maidstone that very afternoon.
He was a keen creator of wind long before he was even conceived, but his earliest performances never featured any notes higher than middle C. In fact, Andrew was never aware of the existence of these "higher notes" until the age of 32, when his father finally removed a tightly-fitting tarpaulin dustsheet which had long concealed the right hand half of the family piano, for religious reasons.
As for alternative employment, at age 22¾ he embarked upon a potentially heraldic career as a sausage and burger tester for Chef & Brewer, but after rejecting 98% of the produce on offer as unfit for a budding reedsman's consumption, was offered the position of CEO which he politely refused, being firmly of the belief that this stood for 'Cabbage Eaten Only', a lifestyle he never believed he could justify in the face of God, being born a 32nd cousin of Abraham and thus inheriting an almosy ungodly craving for a bi-weekly Large Lamb Sharwarma with extra chilli sauce in a wrap.
Finally, a personal note he offered me a tenner not to reveal but I thought it was worth it for your fuller profile of the true man: for 48 years he had no success at all with women, until he gave up his relentless collection of musty and slightly out of tune medieval instruments and bought his first Fender Telecaster. To date he has mastered about 17 hot country licks, inspired by the likes of Joe Brown and Deputy Dawg, and picked up dozens of fairly attractive young female friends by flaunting his new Fender in a local Harvester Inn halfway up the Edgware Road, where he thoroughly recommends their range of superior organically bred sausages and intimately seasoned locally sourced burgers.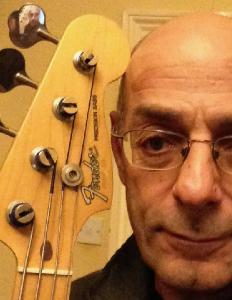 Rob Levy - Bass Guitar, Double Bass, Band Rationaliser
There is simply nothing funny to say about Rob - any attempt at humour concerning Rob would be sacrilegious. I have never ever seen him laugh or even smile.
Rob was born in London in 1953 and then much later, attained a BA degree from University College London in German and Linguistics.
He studied 'Jazz' at Jazzseminar Dornbirn, Austria. Says it all really...
He has played acoustic and electric bass in over 40 West End shows, including, most notably, Five Guys Named Moe, Chicago and Spamalot.
Rob has been a long-term member of The Burning Bush, who specialise in Klezmer and Middle-Eastern music, and also plays and records with Dr Gradus (jazz reworkings of Debussy, Faure, Ravel), Lobu Bobu (Brazilian jazz quartet) and Tivoli Cafe band (European cafe music). So overall, as you can see, there's really rather a lot of 'Jazz' involved, one way or the other.